Jeff and I in Waikiki
Jeff and I and five friends went to Hawaii for ten days last month. Jeff and I decided to go a couple of days earlier than everyone else. It was Jeff's first trip to Hawaii and I thought it would be nice if he and I could have a few days to see my childhood spots, visit with relatives, eat, la dat. We arrived on a Thursday night and our friends were scheduled to arrive the following Tuesday morning. We choose to stay at an old hotel down on the Kapiolani Park end of Waikiki, in the shadow of Diamond head–The New Otani Kaimana Beach Hotel (when I was a kid it was called just The Kaimana Beach Hotel). We did not have a room with a view but here is what we could see from our balcony.
The hotel was literally in the shadow of Diamond Head in the morning.
In the morning we just popped out to the beach side of the hotel and went swimming.
It was about a 20 minute walk from the hotel to Waikiki. For all the Waikiki haters, I understand. But youhave to understand that when I was a child we lived just a couple of blocks between Waikiki beach and the Ala Wai Canal.
Here in fact. Here is where I grew up. Where Tusitala and Kaiulani meet.
Mom tells me that when I was a kid I would escape from home, wearing nothing but my favorite brown shorts, and go to the beach, which was just a few blocks. The police would pick me up and take me home. I guess I did that a lot.
We walked around Waikiki a bit and visited a few of the touristy spots, like the International Market Place. Yes, touristy, but there is some important history there. The land belonged to the late Queen Emma and was bequeathed to the foundation that manages all of these lands which mission is to fund health care for local people.
Magically, we were close enough to walk to Rainbow for lunch. Laurie, I'm talking to you.
I'm so proud of Jeff. He ordered chicken long rice!
We had a romantic dinner coming up at the hotel so, naturally, we had to go shopping for new aloha shirts. We went to Ala Moana. Again, haters, just put it away. Ala Moana was fun. There was a lot of lively music, good shopping and, since the addition of the upper-level, drinks at the Mai Tai lounge.
We really did have one drink. I think.
One of the things I have always loved about the Kaimana is the Hau Tree Lanai restaurant. Hau trees are grow near water, like mangrove. They create this tangled up wall of branches that can be difficult to get through. When when trained, however, the Hau makes a beautiful canopy.
The Hau Tree Lanai at the Kaimana is a rather famous spot and is quite beautiful at night, torches flickering, with the ocean just yards away.
Dinner was romantic and delicious and Jeff looked sharp in his new shirt. Interesting story about that. The print of Jeff's shirt is the original print from the first reverse-print aloha shirt from Reyn's in Honolulu from the early 1960's. This print and cloth was designed to be worn as an alternative for formal work attire and began the "casual Friday's" movement in 1966. The cloth is truly amazing. A polished 100% cotton that comes off the line ready to pop on and go. Oh, and I'm not wearing my shirt because I wanted to wash it first. Sorry about the fashion history.
After dinner we wanted another drink and to stay for awhile because it was lovely but we also had plans to walk to Waikiki and have a few drinks there. So we asked the server for a recommendation of something "not too boozy". She recommended a lychee martini to share. It was delicious! I have never been a big fan of lychee but in a martini the transformation was magical.
The next night we got dolled up for our dinner with my parents. So there's this flashy shiny thing in the photo but so what…we are looking fine.
My parents were so kind to come to Honolulu for just a couple of nights. They are members of the Elk's Club in Honolulu, which is yards from the Kaimana. We had dinner there one night. As a huge surprise my cousin Linda came, who I have not seen since little kid times. That's Mom, Linda, Me and Jeff. My Dad was taking the picture so he's not in it. Dammit! And oh, yes, that's my new aloha shirt. This, by the way, is the formal picture.
Here is the picture that came before we were ready. I love this one because Mom is in the middle of a big laugh. Reminds me of myself, actually.
We bid goodbye to Waikiki on a beautiful night, under the palms at Queen's Beach. It was delicious, romantic and memorable. Honolulu, I'll be coming back again.
Off to the North Shore
After a few days in Waikiki, our friends arrived and we drove up to the beach house we had rented for the week. It was located just a few miles South of Haleiwa on Sunset Beach.
This is the view from the back deck.
If you look just to the right you can see Sunset beach. It was a short walk down the path from the back yard to the beach.
A weather system blew in the day everyone arrived so for the first couple of days it rained off and on. This made a few people grumpy but how can you beat this morning view?
When the sun came out the boys were so ready to do boogie boarding!
I think everyone enjoyed the surf and sand.
We spent a lot of time on the back deck socializing, drinking and just enjoying the beautiful weather and company of good friends.
I think they really loved the ocean.
Eventually we had some rather hot afternoons but Jason came up with this very inventive way of staying cool….a foot-pool table!
Everyone enjoyed the back table.
I love this picture.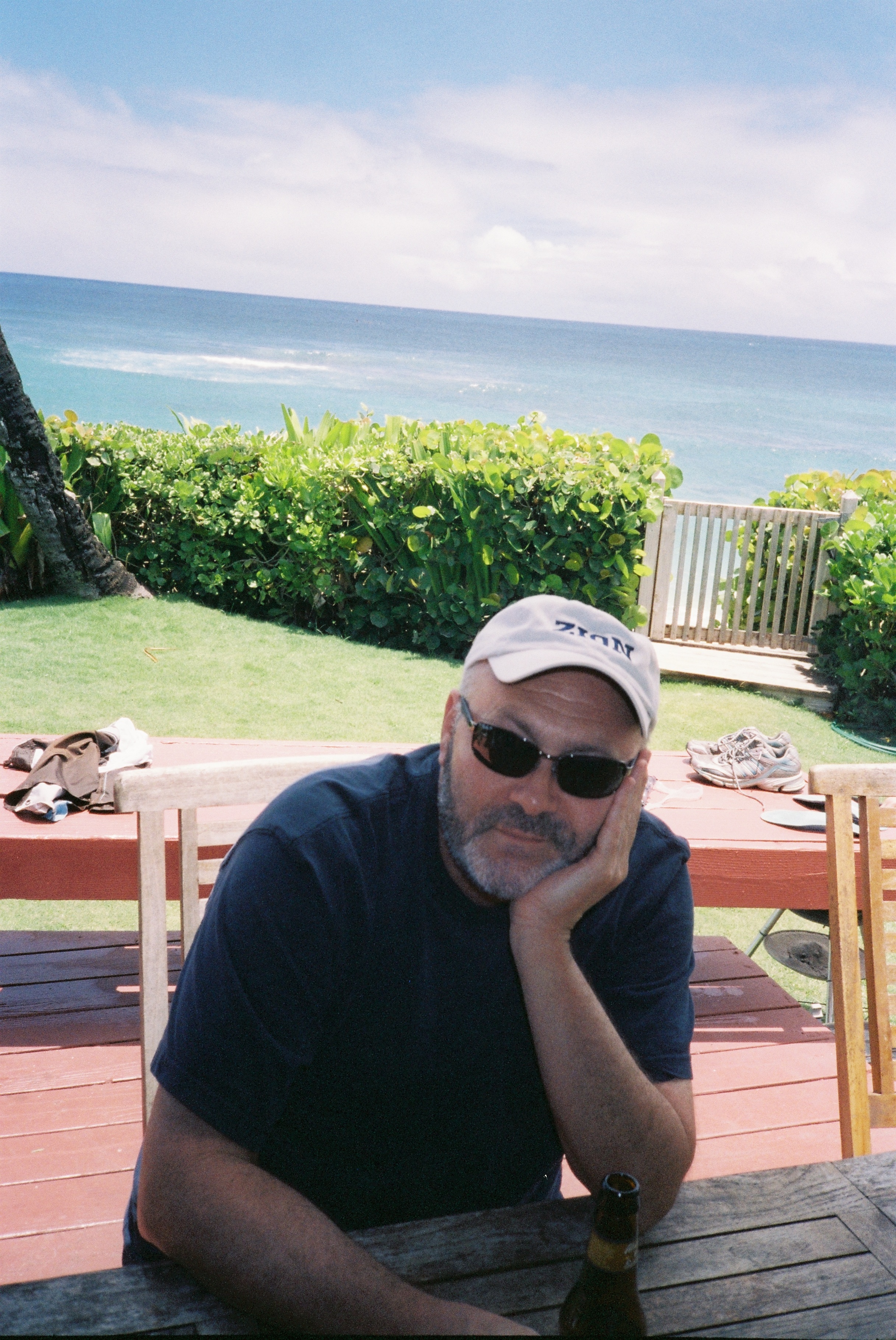 The relaxation was more than I could stand. Actually, not, but we did do other things.
Naturally, I could not be this close to Haleiwa and not go to Matsumoto's Shave Ice. Make mine liliko'i please!
While Josh, Abby and Jason were off hiking and snorkeling on the North Shore, Jeff, Jed, Denise and myself went to Hanauma Bay to snorkel.
Jeff and I were invited one evening to a little family casual dinner thing by my oldest friend, Peter Jones. We haven't seen each other since we were both in our early 20's. We've been friends since Junior High School. Love you Peter!At some point the natives started looking restless and I thought…they need some excitement so we went on a "booze cruise" in Waikiki. There is a LOT that could be said about this evening but I would say overall it was a grand time. Abby had researched and everyone decided that the evening cruise–the last one of the day–would be best. We could see all of Waikiki, Diamond Head, the hills and valleys of Honolulu, all in the sun and shadow of afternoon and evening.
The weather was spectacular.
We all enjoyed the excitement of being on the ocean.
Cruising Josh and Abby.
I understand that Jason has a history with boating. It seemed to me that he really felt at home.
I sat much of the time–it was kind of rough at times out there. Although I never get sea sick I'm just not that sure footed anymore. At some point, Denise decided she needed to sit for a few minutes.
Peter had told us about a heiau that was very close to us so on the last night Jeff and I decided to take a trip up and see it. The view of Waimea Bay from Pu'u O Mahuka Heiau was spectacular.
The heiau itself was rather impressive and spooky.
Back at the beach house the evenings were filled with Sunsets–we are, after all, on Sunset beach. Even though the weather system made for cloudy evenings, the sunsets were beautiful.
So on our last night we bid farewell to the North Shore with a few photos.
Somehow the tree became emblematic of our stay.
Everyone had to get into the act in some fashion
The beauty and tranquility will be remembered for a long time.
On our way home
We all left the beach house and made our way to the airport but we had a few hours before we had to get there so we stopped at Punchbowl Cemetery. There was a big deal funeral going on so we couldn't actually visit the exhibit but we did get to go to the lookout and see Honolulu from above. Click here to see a little video of Honolulu from Punchbowl. It's a little large and might take a minute to download.
I can't remember if we went to Rainbow before or after Punchbowl because, somewhere along the way between Punchbowl and the airport we ate Rainbow AND Chinese in Chinatown. In any case, this series of pictures make me laugh because they say something about our personalities. My picture is just the food because I want nothing to get in the way.
Jeff, an old hand at plate lunch by this time, just jumped into grinding his teri sandwich.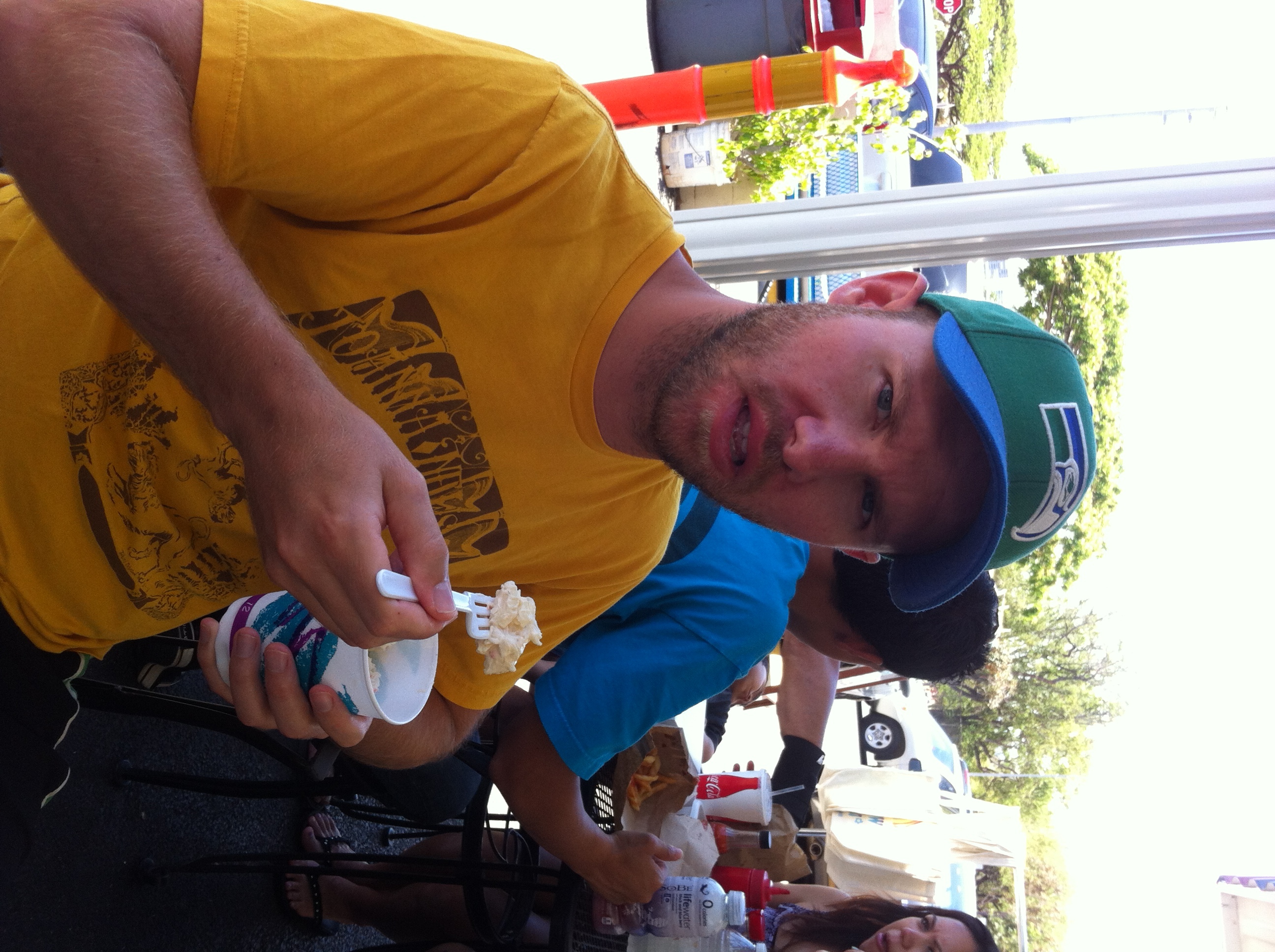 Jed, who ordered some kind of sampler where everything was separated, didn't know the mac salad and the other things need to be on the same plate to mingle and become delicious. After finding out he mixed a little gravy into the mac salad. The look on his face is the same one that accompanies an interesting, working hypothesis.
Denise, who is very careful and very specific, is approaching her food carefully.
I forgot to mention, you might have noticed that all the men in the photos had hair on their faces. It was right before Cinco de Moustache and they could not shave until the appointed time. You all looked great guys, but this one, well, he looked super great to me.
As I was looking through these pictures it struck me how many events I did not photograph. Our trip to Pali Lookout, our afternoon with Mom and Dad at my Cousin Christopher's home with his wonderful family, the rainy day amongst the plants in Waimea Valley. The others on the trip I'm sure have lots of pictures to share so be sure to ask.